2018 Conference Registration is open Aug 20 – Sept 30th!
Be sure to visit our great Vendors

at the 2018 Conference!
Atkinson's Country House
Bittersweet Baskets and Homestead Handles
Cornerstone Baskets
Gifts by Brenda
Homestead Baskets
Nathan Taylor Basket Shop

2018 MARKETPLACE
On Saturday evening, January 20th, we offer Marketplace space to any registrant who wishes to sell basket-related supplies or items he or she has made. Marketplace will be held in the weaving room from 7 pm to 8:30 pm.
Applications and fees for Marketplace are due November 1, 2017.
If you are interested in participating, please use the
CONTACT 2018 CONFERENCE TEAM form to sign up and get info on payment mark your printed registration form or Pre-ordering basket kit and Marketplace fee form, and pay the $10.00 fee to reserve a space for you to sell your items.
OR if you're registering by mail – mark your printed registration form or Pre-ordering basket kit and Marketplace fee form, and pay the $10.00 fee to reserve a space for you to sell your items.
All individual Marketplace spaces must be pre-paid before the Conference.
Silent Auction and
Opportunity Drawings
Silent Auction bidding and ticket sales for the Opportunity Drawings will be available from Thursday noon through Saturday 6:00 pm. 

No address labels needed – just write your NAME on the back of your ticket for a quick way to identify yourself for the drawing.

Silent Auction numbers will be assigned by Registration and you will receive that number in your registration packet.

You must be present at the Conference or appoint someone to pick up your items.

Silent Auction items must be paid in full by cash or check when winners are notified.

No items will be mailed.

  Stars of Weaving Competition
and The Exhibition
Stars of Weaving
Share your baskets with your fellow weavers in either a juried or non-juried exhibit!
5 Juried Categories (each competing for $50 cash prizes):
Reed
Art/Unusual Piece
Natural
New Weaver (less than 2 years)
Professional
One entry from the above categories (except Professional) could win even more $$ and prizes with the Viewer's Choice Award!
COMPETITION UPDATE! This year, winners of the juried categories will receive $50 CASH, rather than a $50 voucher for Conference Vendors, as in prior years. That means you'll have more money to spend on the Silent Auction, Opportunity Drawing tickets, dinner, supplies or gift items from a Vendor or at Marketplace … or on whatever you like!
---
Non-competitive Category (no prize money): The Exhibition
Want to show off your basketry skills but don't want to enter the Stars of Weaving? The Exhibition is just the place for you! Bring your non-competing items to display during the conference.
It's easy to enter the Stars of Weaving Competition or The Exhibition and FUN to show off your basketry skills!
Get further details by contacting our Stars of Weaving Coordinator here: 
Membership is open to anyone interested in basket weaving!
Your Individual or Shared Membership with the Texas Basket Weavers Association gives you access to our membership directory and newsletter plus the ability to register to attend our annual conference held in January.
Our

"Lon

e

 

S

t

a

r

 

T

winings

"

 

newsletter provides useful tips, interesting articles on weaving, volunteer weaving events around Texas, news from the local Guilds, and other nifty resources.
Our annual conference is filled with basket weaving classes, baskets ideas, and networking with other basket weavers.
Printed editions of the Lone Star Twinings newsletter are mailed to members for an additional yearly fee of $15, which must be paid at the same time as the annual membership fee. Digital editions of the Lone Star Twinings are free with all memberships. Local, national and even international guest instructors assist us in achieving our mission by offering classes for all skill levels at our annual conference and other events throughout the year.
Shared memberships are required to mail in an application, residence validation, and payment to our membership director. Printable applications are available by clicking on the image of the membership application or going here.
Membership is required to attend the annual conference and other TBWA events.
TBWA Membership year runs May 1 through April 30 and dues are not prorated. Dues must be paid before May 31 to guarantee your name to appear in the directory.
New Individual Memberships or renewal of an Individual Membership is now available online using one of our two forms below. Select which method throughout the year you would like to receive your copy of our Lone Star Twinings Newsletter, follow the prompts, then pay online during checkout. If you would prefer to mail in your application and payment, please click on the image of the application in the next section for Shared Memberships to print and mail in your membership fees.
Mail Your Membership Application for Shared Memberships
Click on the application image below to open it up for printing.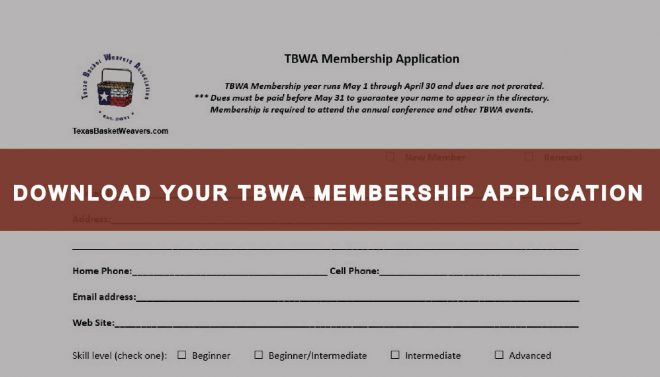 Feel Free To Contact Us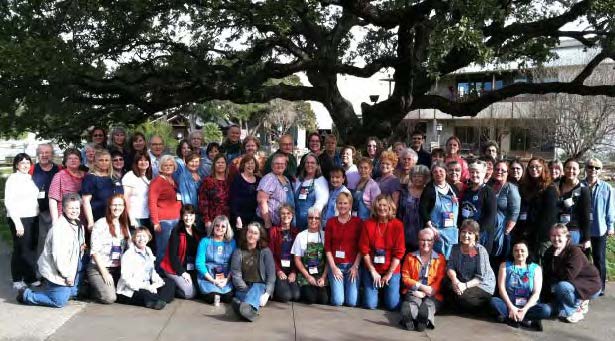 We are excited you found our website and if you haven't found what you were looking for, please feel free to contact us by using this form.
Want to know more about the 2018 "Weavin' In Kerrville" Conference or volunteering there?
Use this handy form to get a message to our conference team!